School of Advanced Science and Engineering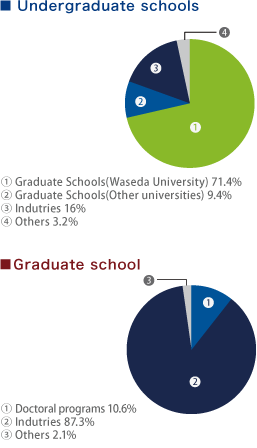 Companies which graduates work for:
IHI Corp.
Asahi Kasei Corp.
AGC Inc.
SBI Holdings, Inc.
NTT Communications Corp.
Olympus Corp.
Kao Corp.
Canon Inc.
KURARAY CO., LTD.
KOSÉ Corp.
JXTG Nippon Oil & Energy Corp.
CMIC CO., LTD.
Shin-Etsu Chemical Co., Ltd.
Nippon Steel & Sumitomo Metal Corp.
Sumitomo Chemical Co., Ltd.
Sony Corp.
SoftBank Group Corp.
CHUGAI PHARMACEUTICAL CO., LTD.
Denka Co., Ltd.
Denso Corp.
Central Japan Railway Company.
TOKYO GAS Co., Ltd.
Tokyo Electric Power Company
Holdings, Inc.
TORAY INDUSTRIES, INC.
Toyota Motor Corp.
IBM Japan, Ltd.
NEC Corp.
Japan Broadcasting Corporation(NHK).
Nomura Research Institute, Ltd.
Panasonic Corp.
NIPPON TELEGRAPH AND
TELEPHONE EAST CORP.
Hitachi, Ltd.
Fujitsu Ltd.
Honda Motor Co.
Mitsubishi Heavy Industries, Ltd.
Mitsubishi Electric Corp.
MUFG Bank, Ltd.
Yahoo Japan Corp.
LIXIL Group Corp.
Recruit Holdings Co., Ltd.
Ricoh Company Ltd.
Works Applications Co., Ltd.
Others